17-year-old Cayman Island racer Kyffin Simpson has confirmed his plans for 2022, signing a deal with long-term partners TJ Speed Motorsports for his debut Indy Lights Presented by Cooper Tires campaign.
TJ Speed and Simpson have proven to be a powerful combination through 2021, securing five wins and a further six podiums on their way to a 65-point FR Americas championship lead. A clean sweep of three victories at the season-opener established Kyffin as the driver to beat despite TJ Speed being the newest operation on the grid, a testament both to Kyffin's ability and TJ Speed owner Tim Neff's meticulous approach.
Alongside his FR Americas program, Kyffin competed in 16 rounds of the 2021 Indy Pro 2000 Championship Presented by Cooper Tires with Juncos Hollinger Racing, scoring a debut podium at the IMS Grand Prix of Indianapolis in May. He followed that success with two further podiums before scheduling conflicts withdrew the #21 car from the final rounds, sealing eighth in the series standings.
Simpson is no stranger to the 450hp Dallara IL-15 machine, having completed over 2,000 miles of testing across four tracks since shaking down TJ Speed's first Indy Lights car in August. Kyffin will lead the team's preparations at the official Chris Griffis Memorial Open Test at Indianapolis Motor Speedway, October 30-31.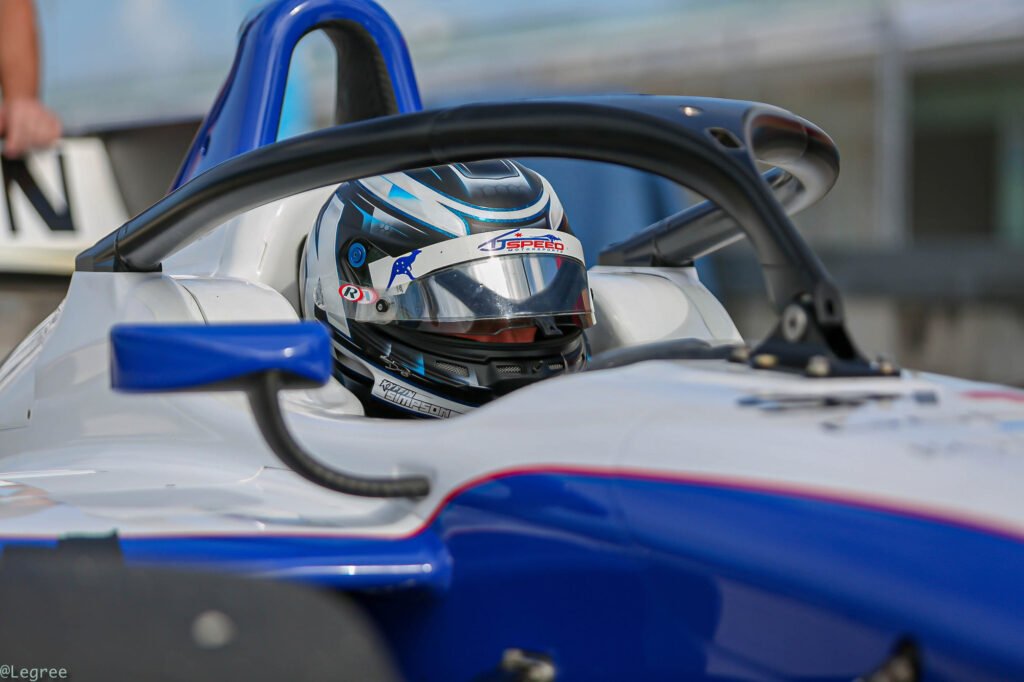 Kyffin Simpson, 2022 Indy Lights driver for TJ Speed:
"I'm really excited to confirm my 2022 Indy Lights program with TJ Speed Motorsports! It's another important step to reach my overall goal, racing in the NTT INDYCAR SERIES. With INDYCAR resuming management of the series from next season, things are looking positive for the future.

"The IL-15 is great to drive. Tim, the team and I have been working hard to understand what it needs to get that last 5% out of it, and I feel pretty confident I will be challenging at the front from the season-opener. I wouldn't be here without Tim's support and I'm grateful we can make this step together, just one year after I started working with him, and two years after I made my car racing debut.

"I think the last quarter of 2021 will be the busiest time of my career so far; Indy Lights testing, the HPD GT3 Academy with Honda, the final FR Americas rounds and test days… I'm just trying to be the most complete driver possible. Looking back over the year, I have driven Midgets on the ovals with the Seymour's and John Chambers, LMP3 machinery at Daytona, and of course the GT3 Acura NSX with the Honda Academy. Training, simulator – you name it, I've done it. I've learnt a lot about myself, and I'm fully focused on doing the work and doing it right.

"It's always an honour to drive at Indianapolis. I can't wait to get back in the IL-15 for the official series test later this week."
TJ Speed owner Tim Neff added:
"All of us at TJ Speed are excited to have Kyffin sign with us for Indy Lights. We've had great success in Formula Regional this year and are hard at work to prepare for the next step of Kyffin's career.

"Testing in the IL-15 has been going great. We have been to Autobahn, Barber, Homestead and Road America so far and Kyff hasn't put a foot wrong."
Following the Chris Griffis Memorial Open Test at Indianapolis Motor Speedway, Kyffin will participate in the final HPD GT3 Academy track day with Racers Edge Motorsports at Sebring, November 2-3, then travel to Circuit of the Americas for the final FR Americas championship rounds, November 4-7.
To secure the 2021 FR Americas Powered by Honda title at COTA, Kyffin must outscore rival Joshua Car by 10 points across three races. You can follow and support Kyffin's progress on social media via Facebook, Instagram and Twitter.
Kyffin is supported by Simpson Race Products, GoPro action cameras, Spy sunglasses, DART, BODDENS, Kimpton Seafire Resort + Spa, and Kokoro Performance driver coaching services.